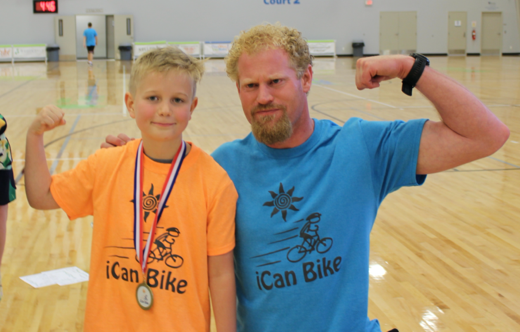 We are excited to announce that we are bringing iCan Bike to Eastern Idaho again this year! This is a one-week bike camp that teaches individuals with disabilities to ride two-wheeled bicycles.
Participants must be at least 8 years old, under 220 pounds, and have at least a 20-inch inseam.
The bike camp will run from Monday, July 17th to Friday, July 21st. It will be held at Mountain View Event Center in Pocatello. Participants come for a 75 min session each day (they come at the same time each day). Sessions run from 8:30 am to 5:00 pm. We will have registration ready soon but until then, if you are interested, please click the button "Click if Interested" and fill out the form. We will email you a link to register as soon as it is open. There are only 40 spots so don't wait! The camp will be $149 for registered members of EIDS and $199 for all other participants. A big thank you to Mountain View Event Center in Pocatello for hosting us and the ISU Occupational Therapy students for committing to be our volunteers.
Registration is on a first come first serve basis and will close when all 40 spots are filled or by July 1st, which ever comes first.