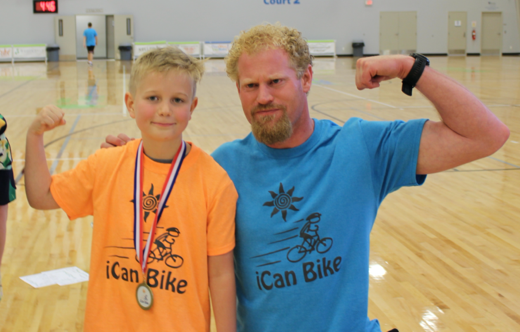 We are excited to have the iCan Bike camp back in Eastern Idaho this year. This is a bike camp for individuals with disabilities to learn how to ride a two-wheeled bicycle. The bike camp will run from Monday, July 5th to Friday, July 9th. It will be held at Madison High School in Rexburg. Participants come for a 75 min session each day (they come at the same time each day). Sessions run from 8:30 am to 5:00 pm.
There are only 35 spots so don't wait! The camp will be $149 for registered members of EIDS and $199 for all other participants. A big thank you to the Elks for the Idaho Elks Rehab Community Rehabilitation Grant, Rexburg City Council, and Madison School District for making this possible.
To participate the individual must: be at least 8 years old, be able to sidestep to both sides, have a disability (Down syndrome or any other disability), be able to attend camp all 5 days, be able to walk without an assistive device, weigh under 220 lbs, be willing and able to wear a properly fitted bike helmet, and have a minimum inseam of 20" (measure from floor while rider is wearing sneakers). If your child/adult meets all of these requirements and you would like to register them, please go to the below link and fill out the registration form.
Link to register:
https://forms.gle/bzKk2qkjwMgSkQcX8
If you would like to volunteer at this event please go to this link:
https://forms.gle/cEaq753fZ5E2QpjR8