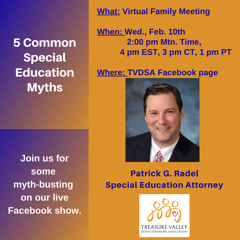 Treasure Valley Down Syndrome Association is inviting you to a special "Virtual Family Meeting" with Patrick G. Radel. 
"Patrick Radel, is passionate about people with disabilities' rights and represents New York families in special education law matters.
Pat will discuss 5 Common Special Education Myths and help parents understand their rights.
We'll be live on Wednesday, Feb. 10th, at
2:00 pm Mtn. Time, 4 pm ET, 3 pm CT, 1 pm PT
Join us on TVDSA's Facebook page
The replay will be available on TVDSA's Facebook page."