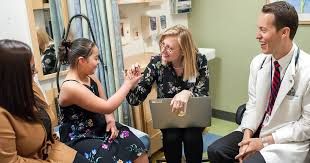 Ok. Ok. Not quite! But seriously, this is the next best thing! I was so excited when I was introduced to this program. It's not always practical to travel to a clinic for people with Down syndrome! Insurance, distance, cost can make it incredibly difficult! But what if as an advocate you could partner with your Doctor to make sure your child is receiving the most up-to-date care based on the current medical research and guidelines for Down syndrome?
Massachusetts General Hospital and Dr. Brian Skotko have created a program called Down Syndrome Clinic 2 You (DSC2U). DSC2U helps bring the best of health and wellness information about Down Syndrome to family members and your primary care physician.
As a caregiver you can access the program online, put in specific medical information for your loved one with Down Syndrome, and then DSC2U does the rest! You will receive 2 documents: (1) suggestions and medical information that you, the caregiver, can use, and (2) a companion list of recommendations to share with the primary care provider. 
Most primary care physicians aren't seeing a ton of patients with Down syndrome, and it is unreasonable to assume that they are all experts. They definitely do their best, but there is so much new and exciting research that they may not know about yet! DSC2U puts that information in their hands. So don't be afraid to advocate. Be a partner with your medical team and let DSC2U help make YOUR Doctor a specialist in Down syndrome.
Check out DSC2U today!